BRC Global Standards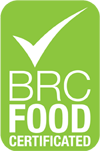 Global Food Safety Standardization
The BRC Global Standards for Food Safety were developed to specify the safety, quality and operational criteria required to be in place within a food manufacturer to fulfill obligations with regard to consumer protection and legal compliance.
Principles of the Global Food Safety Standards
A food business must have a full understanding of the products produced, manufactured and distributed and have systems in place to identify and control hazards significant to the safety of food.
The Global Standards for Food Safety are based on two key components: senior management commitment and HACCP (Hazard Analysis Critical Control Point), a step-by-step approach to manage food safety risks.
Effective food safety management extends beyond technical departments and must involve commitment from production operations, engineering, distribution, management, procurement or raw materials, customer feedback and human resource activity such as training.
The starting point for an effective food safety plan is the commitment of senior management to the development of an all-encompassing policy as a means to guide the activities that collectively assure food safety. The Global Standards for Food Safety place a high priority on clear evidence of senior management commitment.
The California Family Foods management has proven its commitment to these principles, has met the food safety, quality and operational criteria, and is proud to be BRC Food Certificated.
Visit the BRC Global Standards website for more information.